Information about Vienna
Vienna is always worth a visit!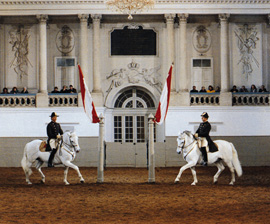 In this history-charged city, everyone will get their money's worth. Art interested, shopping addicted or gourmets – your time in Vienna will be unforgettable! There's much to see and explore, St. Stephen's Cathedral, the former imperial palace "Hofburg", Schönbrunn Palace, numerous museums and wonderful Palais at Ringstraße make Vienna a distinctive place on its own.
Bild: ©Wien Tourismus / Spanische Hofreitschule / Herbert Graf
Donaukanal
During the last few years the Donaukanal became a true hot spot in Vienna.
Next to the Badeschiff (a floating swimming pool) a lot of beach bars, restaurants and nightclubs are located.
Hint: Just a few meters away from the Pension Dr. Geissler is the pier of the City-Twin-Liner. The Twin-City-Liner is a huge catamaran connecting Vienna and Bratislava, the capital cities of Austria and Slovakia. The trip between the two closest capital cities in Europe takes just 90 minutes. And it's always worth a visit! Already the journey on the Danube river is a great experience!